This article, Kioshi Minori, is property of Rozeluxe.
Kioshi Minori

Name
Kioshi Minori
Kanji
淳里
Romanji
Minori Kemuri

General Information

Race
Shinigami
Age
27
Gender
Male
Height
6'3"
Weight
232 lbs
Eye Color
Blue
Hair Color
Black

Professional Information

Affiliation
YOMI
Previous Affiliation
None
Occupation
YOMI Captain
Team
YOMI 12th Division
Partner
Sango Hotaru
Base of Operations
Meitzen Manor

Personal Information

Marital Status
Single
Family
Unknown
Education
Shino Academy
Status
Alive

Zanpakutō

Shikai
Shin'netsuz​ō
Bankai
Not Yet Revealed
Kioshi Minori (淳里, Pure Truth)
Appearance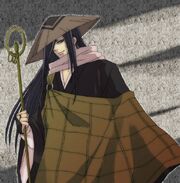 Kioshi is a fairly tall Shinigami with long black hair and piercing blue eyes, appearing as a young bishōnen in his early twenties. He is frequently seen dressed in a black monks' garb while wearing a simple straw hat topped by a diamond shape. He often wears a white scarf around his neck and an olive-colored kesa fastened by a ring over his robes signifying his full ordinance as a monk. While facing off against an opponent in battle, he wears green and blue-gray samurai armor. He never goes anywhere without his mystical staff.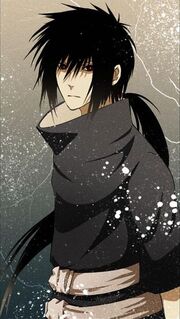 When he removes his monk garb, Kioshi wears his long hair tied in a ponytail. His bangs parted down the centre of his face to frame both sides of it. He also begins to wear a more standard stealth attire which consists of a high-collared, black shirt with a red and white colored crest on his upper back and blue pants which were wrapped up in bandages at the ends.
Personality
Kioshi is an increidbly warm-hearted man. He is always willing to help everyone and can usually be found roaming about Meitzen Manor helping the members of YOMI with various tasks alongside Hakuryu with whatever they need, whether it be training or a personal favor. Kioshi is often open to any request he receives, fufilling it to the best of his abilities as he gets a great joy from seeing others smile. Many in his own division also look up to him, not because he is their leader, but because he cares for them and respects them as individuals. Kioshi is very courageous when it comes to battle, taking the lead when out with a group or often fending off opponent's himself.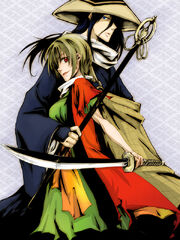 Though he is very kind, he is also a huge practical jokester. Nothing makes him happier than seeing someone fall for his pranks. There is no limit to what he will do to carry out a joke as he even faked his death for a week so he could pretend he was haunting
Yukina
, despite her claiming that she felt no fear and was just simply playing along to keep everyone else amused.
Kioshi has developed a close bond with fellow YOMI member Yoshina Amagi and has even asked for her hand in marriage several times, only to be shot down ech time. However, even Yoshina is not immune from Kioshi's pranks, having once been tarred and feathered for Kioshi's amusement, though he helped clean with her later to make up for it.
History
Synopsis
Equipment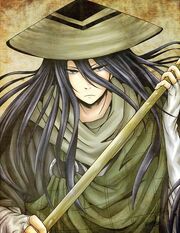 Shakujo Staff:
Powers and Abilities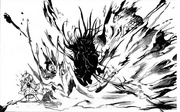 High Spiritual Power
: Despite his appearance, Kioshi has quite a high amount of spiritual power, being on par with some of the weaker Captains of the
Gotei 13
. When he so desires, Kioshi is able to release his spiritual energy in large bursts capable of being viewed as a mini explosion to those in range.
Expert Swordsmanship Specialist: Kioshi is quite skilled with a blade. This stems mostly from him being ambidextrous. He is able to switch his sword between hands to better his attack. His swordsmanship is his most worked on skill and he has been working to even out his reaction time between hands.
Kidō Expert: He is knowledgeable with kidō, having been shown to use a level 50 spell without incantation. He usually tends to avoid it's use, preferring to get up close and personal with a blade. He uses it when he has no other choice.
Shunpo Practitioner: While not bad in it's use, he is not the best. He can only travel short distances with it's use and really only uses it to avoid an unblockable attack in combat.
Enhanced Senses: Due to his Zanpakutō ability often obscurring his vision, Kioshi has enhanced his other senses to compensate. He is able to hear and feel all movement around him and has even developed a blind fighting style to take advantage of his abilities with each strike giving him new information of where to move next and each sound relaying to him any changes in the battle. He has also become an expert at reading opponent's movements, able to tell from the slightest muscle movement what they will do next.
Zanpakuto
Shin'netsuz​ō (信念の捏造, Forger of Beliefs):
Shikai:
Bankai: Not Yet Revealed
Ad blocker interference detected!
Wikia is a free-to-use site that makes money from advertising. We have a modified experience for viewers using ad blockers

Wikia is not accessible if you've made further modifications. Remove the custom ad blocker rule(s) and the page will load as expected.