This article is currently under active construction.
Alva Berg

Name
Alva Berg

Characteristics

Race
Kenmeiotome
Age
Ageless
Gender
Female
Blood Type
O

Professional Status

Affiliation
The Legendary Maidens
Base of Operations
Eden

Personal Status

Marital Status
Single
Education
Self-Educated
Status
Active

Shinjitsu

Kaihou
Not Yet Revealed
Appearance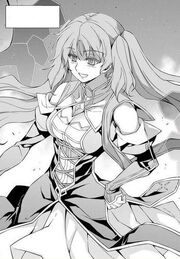 Personality
History
Equipment
Powers and Abilities
High-speed Regeneration: Due to her Kenmeiotome Physiology, Alva possessed the capability to heal from her wounds almost instantaneously. She was more than able to escape from near-fatal wounds with little effort as well as large-scale attacks with very little indication of injuries whatsoever. She also showed the ability to control the rate of her regeneration and when to regenerate as well.
Enhanced Strength:
Enhanced Durability:
Shuureiho (しゅうれいほ, Graceful Step): Shuureiho was considered to be the Kenmeiotome's equivalent to a Shingaimi's Shunpo. An instinctive ability, it could greatly be improved through consistent training.
Focus Special Ability:
Shinjitsu
Notes
Trivia
Behind the Scenes
Gallery
References
Literature References
Ad blocker interference detected!
Wikia is a free-to-use site that makes money from advertising. We have a modified experience for viewers using ad blockers

Wikia is not accessible if you've made further modifications. Remove the custom ad blocker rule(s) and the page will load as expected.